If you're a new guest at The Webster Apartments, then you'll want to check out the top fall festivities in New York. There's nothing basic about these activities during our favorite season!
Autumn in the city is full of cozy sweaters and crisp air. So, grab your pumpkin spiced latte or hot apple cider, and start exploring these top fall festivities in New York.
Fall Foliage Hotspots
One thing you should know about living in the Northeast – we have amazing fall foliage! In fact, our colorful leaves are a trademark here.
"Autumn is a second spring when every leaf is a flower." –Albert Camus
Central Park is of course a great place to enjoy the fall. But if you're unsure where to begin, check out this guide from Central Park's site here. They walk you through the perfect path to take to see some Instagram-worthy photo opportunities.
You can also view the majestic leaves via boat! Loving New York has listed The 5 Best Fall Cruises. Be sure to purchase your tickets ahead of time, because these fill up quickly.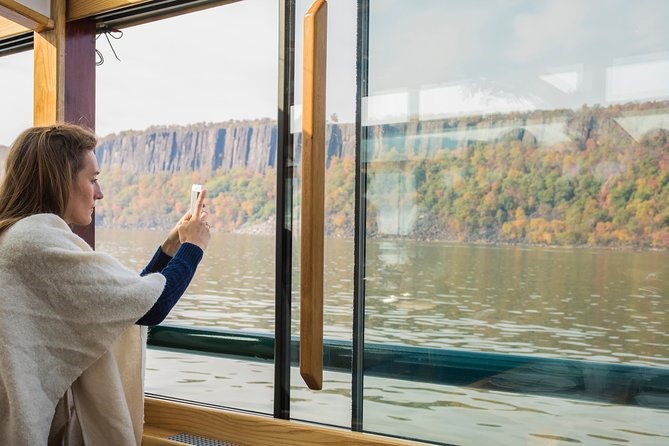 [NYC Fall Foliage Brunch Cruise]
As you can see, there are pockets of opportunity to see beautiful fall foliage in New York. You can visit I Love NY's site for their fall foliage map so you catch them exactly during their peak.
"And all the lives we ever lived and all the lives to be are full of trees and changing leaves…" -Virginia Woolf
Fall Foodie Paradise
One of the top fall festivities in New York centers around food, of course! This year marks the return of the Food Network & Cooking Channel New York City Wine & Food Festival. The event will run from October 14-17, 2021, and feature over 80 events, so be sure to get your tickets ahead of time here.
Check out their website because they go into more detail about walk-around tastings, intimate dinners, culinary demos, and much more. For foodies, this is a must-visit event.
[NYCWFF]
If you'd prefer to be more lowkey and traditional, try apple picking! From the city to the Adirondacks, to the Catskills, and Long Island – there is no shortage of beautiful spots to venture out to for a day or the weekend. You can see I Love NY's list of  11 of the Best Places for Apple Picking and get started! Tip: if you've never had an apple cider donut, do yourself a favor and get one freshly baked and warm. You can thank us later!
If breweries and wine tastings are more your thing, well, we have that too! Taste NY has a great list of all the breweries and wineries in New York State. It's a great opportunity to get out of the city for the weekend and explore other parts of the state.

Fall Open House Weekend
The final fall festivity we're sharing is the return of Open House NY. Beginning October 16-17, 2021, more than 1,000 sites across the five boroughs are open to the public for talks, tours, special events, and more. Open House "promotes broad, unparalleled access to the city—to its architecture, public spaces, neighborhoods, and people—and fosters civic dialogue about the urban systems that define how the city functions and who it serves."

Fall In Love With New York
We hope these top fall festivities in New York inspire you to throw on a cozy sweater and fully take advantage of our gorgeous state. From apple and pumpkin picking, to food festivals, to leaf peeping – it's an incredible time to be in New York.
If you'd like some more suggestions, you can access our 2020 Fall list here.